(Imported Cremello German Warmblood)
Birthdate: July 4th 2000.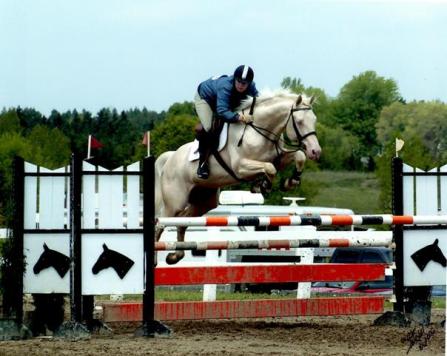 photo credit Shoot Photographic above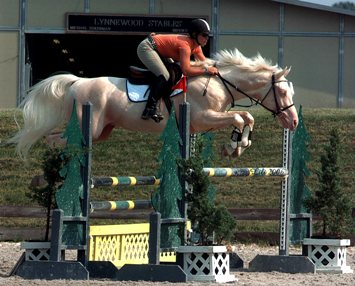 photo credit Lili Weik above two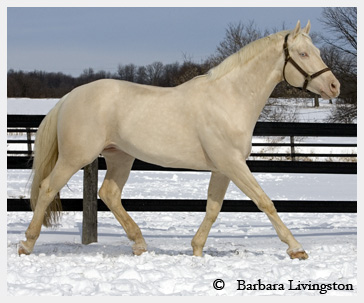 "GUARANTEED Colour PRODUCER"

View colour chart
Mirabeau
is a Cremello German Warmblood. He was imported in May of 2001 from Germany. He is a definite eye catcher because of his sky blue eyes and pearl white coat which Cremellos are known for. With this comes the Guarantee of unique colours in his offspring. He will produce 100% Palominos when bred to chestnut mares. He will produce Palominos and Buckskins when bred to other coloured mares. Mirabeau will NOT produce smokey black foals. Greys mares being the exception as the foal can turn from its birth colour to grey in the first year.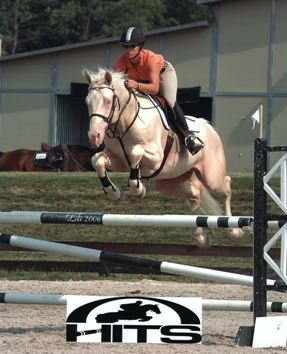 photo credit Lili Weik
Currently, Mirabeau is registered with ZfDP in Germany and entered into SB II with RPSI. All of his foals out of mares entered into the RPSI mare books are eligible for papers, passport, branding and premium status. So far all of Mirabeau's foals have attained gold or silver premium status making him a 100% producer of premium offspring!!! He is going to be inspected by a few different Warmblood/Sporthorse registries to receive stallion licenses over the next 2-3 years. Our main focus at this time is on his performace career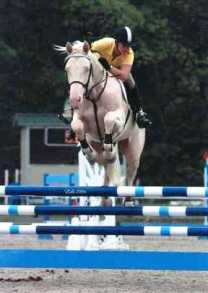 Mirabeau is now being ridden by him amateur owner, April Wayenberg. Watch for them showing in 2010! Shows will be posted once the season is planned out in early 2010. Check the news page.

2007 Mirabeau was in training with Kim Farlinger,
an accomplished rider who already competes at the top of her sport at the young age of 22. She is one of Jill Henselwood's main riders and has now begun to take on a few of her own clients. She has a great seat, soft supple hands, quiet leg and the horse sense to know how and when to progress forward with a horse.
Mirabeau's 2007 shows included
May 8-20 weeks I and II at Palgrave/Bolton, Palgrave Ontario
Mirabeau's previous training; Jan 05-August 06 - Heritage Farms (Natty Hunt and Danny Foster).
Mirabeau was in training with them for one and a half years where he competed in many A rated shows such as HITS on the Hudson, NY; HITS Culpeper, VA; Palgrave, ON and Showplace Lamplight Equestrian Center, IL. He is bold, scopy, yet very careful and he had a great first show season with many good placings in classes of 30+ horses. Mirabeau will be competing in the jumper ring in 2007 as well as attending to his breeding duties.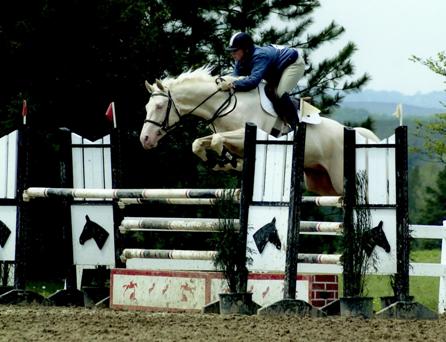 photo credit Shoot Photographic
We are taking booking fees for 2010 and transported semen will be available. We also have frozen semen.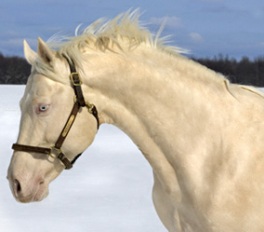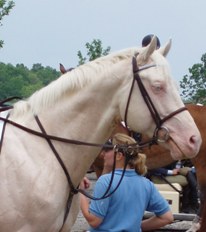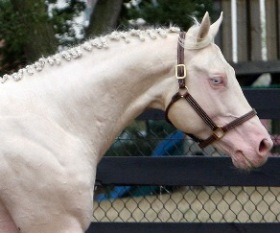 He comes from some of the great jumping sires in his Hannnoverian-Dominated pedigree.
Mirabeau's accomplishments 2006;
First Show
HITS Culpeper, VA
April 21st - 3rd level 3 open jumpers (46 entries)
April 22nd - 5th level 3 open jumpers (35 entries)
HITS Saugerties, NY
May 27th - 2nd level 3 open jumpers (40 entries)
July 21 - 7th level 4 open jumpers (70+ entries)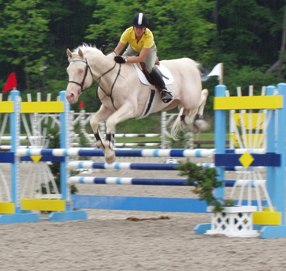 &nbsp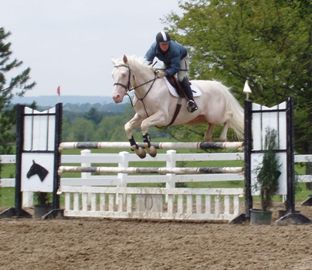 DAM'S SIDE:
-Carefully line bred on his dams side, Mirabeau combines the famous lines of the Trakehner MARDUC, who is famous for siring horses of great readability and dressage talent. He has consistently produced Championship sons and daughters as well as dressage horses to (S) 4th level. We also find MALTESER GOLD who is a son of Marduc. He has sired over 5 graded stallions and has hit the headlines in breeding circles, especially because of his always highly placed State Premium daughter MALTESERIN. Malteser Golds dams side we find the great jumping horse sire RATSHERR, who is considered a guarantor for jumpers of high readability: as well as ARNOST, by the great Hannoverian sire ABHANG I, who are contributing some more nobleness to an already impressive pedigree.
SIRE'S SIDE:
- His sire is Mascarpone (the only approvrd Cremello Warmblood Worldwide!!) He died on Dec.26/01 due to a tragic accident. Mirabeau will carry on his legacy.
We see MORGANGOLD 1 who was sold in 1991 after being successfully graded by the breed association Rheinland-pfalz-sarr. He went to Ireland and was the most successful horse of his class in 1992- within a year of arriving. He sired the graded Palomino Stallion MEGA-STAR and has a further graded son in Ireland called SPARKLING GOLDEN MAJOR. We find PHILIPPO, who has won through to S level (4th) Dressage as well as combining predominantly jumping blood. 4-times line-breeding to the outstanding jumping sire FERDINAND(Fandango) combines with famous sires DOMSPATZ(Dalmond) and GRAND to complete the picture of a supreme pedigree.

Mirabeau

Imported German Warmblood
16.2 hh, Cremello




Mascarpone

Was the only approved Cremello Warmblood in the World
(Passed away on Dec.26/01)

Mega-Star
(ZW)
17.2h Palomino
Morgangold 1 (ZW)
16.2 h Palomino
Malteser Gold
16.2h Palomino
Isabella
17.1h Palomino
Pandora
(ZW)
Philippo (Hannovarian)
Wembley
16.1h Palomino
Panachee
VPrST (ZW)
16.1h Palomino
Philippo
(Hannovarian)
Weltmann
(Hannovarian)
Narisse
(Hannovarian)
Wembley
(Hessen) 16.1 h Palomino
Wildererr
(Hannovarian)
Fortuna (Bayern)
16.1h Palomino
Mirabelle

ZfDP
16.2 h Palomino
Metalic Dream
RPSI Palomino
Malteser Gold (Hessen)
16.2h Palomino
Marduc
Trak
Altamira
(Hessen)
Wembley (Hessen)
16.1h Palomino
Wildererr
(Hannovarian)
Fortuna
(Bayern)
Isis (Hessen)
16.3h Palomino
Sensussi
(Hannovarian)
Senator
Wilke
Inka (Wurtt.)
Imkerr
Tafite

"Mirabeau in summer of 2004"



Photo credit Rhea Klotz
&nbsp

Click here to see pictures of his ancestors
See many of Mirabeaus foals by clicking this link